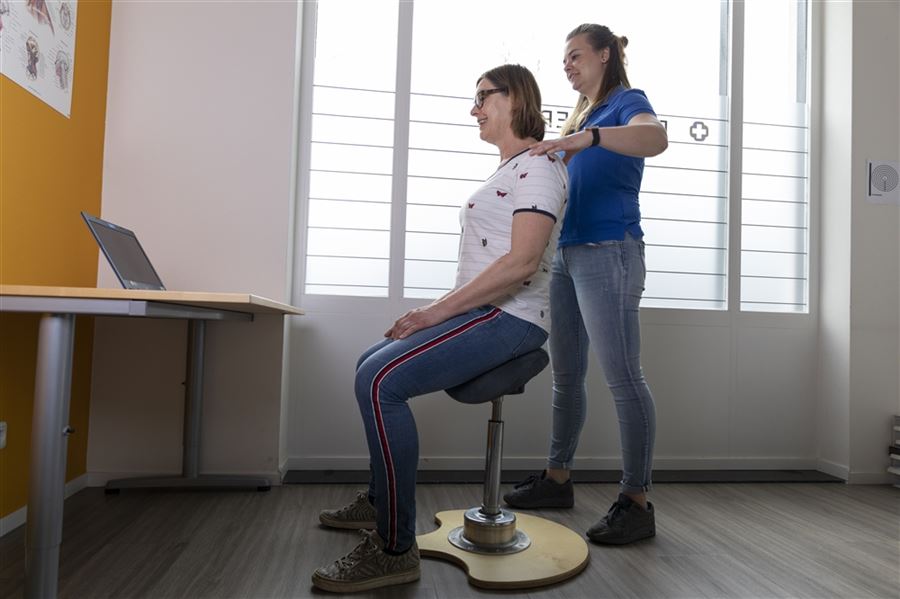 De Flexchair RBT is een 'wiebelkruk' die meebeweegt met de natuurlijke bewegingen van uw rug. Middels een sensor onder de kruk worden de bewegingen die u maakt geregistreerd en weergegeven op een beeldscherm. Dit maakt inzichtelijk of u tijdens bewegen gebruik maakt van uw kleine/diepe rugspieren (stabiliserende spieren), of dat u compenseert vanuit de grote spiergroepen, die zorgen voor grote bewegingen met veel kracht.
Om optimaal te kunnen functioneren hebt u juist de stabiliserende spieren nodig. Zij vormen de basis van waaruit u kunt bewegen, ook wel rompstabiliteit of core stability genoemd. In onze huidige 'zitmaatschappij' zijn deze echter steeds minder actief.
Trainingen op de Flexchair RBT worden altijd begeleid door een daarvoor opgeleide fysiotherapeut of oefentherapeut. De Flexchair RBT kan worden ingezet bij o.a. de volgende doelen:
Verbeteren van de core stability/rompstabiliteit
Het verminderen van (chronische) rugklachten
Herstel na een (sport)blessure in heupen, knieën of enkels
Valpreventie bij ouderen
Spierkracht training bij neurologische aandoeningen
De Flexchair RBT zorgt vaak, naast het positieve effect op de klachten, ook voor het gevoel van meer energie en lekkerder in uw vel zitten. Er zijn vanuit de literatuur aanwijzingen dat een Flexchair RBT trainingstraject bijdraagt aan het verminderen van ziekteverzuim.
Een therapietraject met de Flexchair RBT bestaat uit een PAR test (Persoonlijke Actieve Rugtest) om te bepalen hoe het op dat moment met de stabiliteit van de rug gaat. En het vaststellen van uw doelen. Aan de hand daarvan wordt samen met u een trainingsprogramma opgesteld. Dit bestaat uit trainingsoefeningen op de Flexchair RBT, maar ook uit core stability oefeningen los van de Flexchair RBT en oefeningen voor thuis. Het aantal therapiesessies wat daarvoor nodig is, stemt de behandelend therapeut met u af.
De Flexchair kan als onderdeel van uw therapie/revalidatie worden ingezet. In dat geval valt de vergoeding onder de (aanvullende) zorgverzekering.
Bent u niet aanvullende verzekerd? Dan verwijzen wij u naar onze tarieven.