Fysiotherapie na COVID-19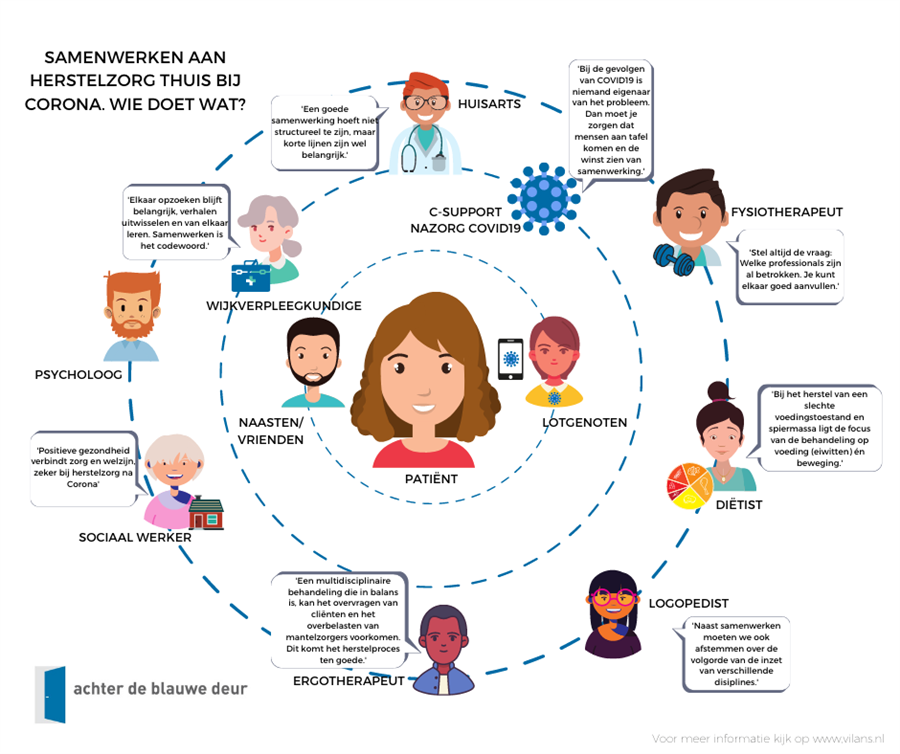 Wanneer je Covid-19 hebt doorgemaakt kan het herstel soms moeizaam verlopen. Ook als je al helemaal bent genezen kunnen klachten soms nog maanden aanhouden.
Klachten die veel voorkomen na een infectie zijn vermoeidheid, kortademigheid, pijn op de borst, pijn in de gewrichten, overprikkeling, moeite met concentratie, angst en depressie. Maar ook andere klachten kunnen voorkomen.
Bij ons in de praktijk kunnen we u helpen met deze klachten. We brengen uw klachten in kaart en testen de kracht en conditie. Samen kunnen we werken aan uw fysieke gesteldheid door middel van oefentherapie en ademhalingsoefeningen.
Omdat de klachten zo divers zijn werken wij samen met andere behandelaars, waaronder huisarts, een ergotherapeut, een diëtist en een logopedist die we inschakelen als dit nodig is.
Herstelzorg, waaronder fysiotherapie, voor coronapatiënten die ernstige klachten hebben, is tijdelijk en onder voorwaarden opgenomen in de basisverzekering. Dit betekent dat u maximaal 50 behandelingen binnen maximaal 6 maanden vergoed krijgt vanuit de basisverzekering.
Voorwaarde: deelname aan onderzoek
Een voorwaarde om voor vergoeding van de herstelzorg in aanmerking te komen, is dat u deelneemt aan een landelijk medisch-wetenschappelijk onderzoek. De behandelaar geeft dan bepaalde gegevens aan de onderzoekers door. Dit gebeurt natuurlijk nooit zonder uw toestemming.
Indien u na 1 februari gestart bent met de herstelzorg, wordt u gevraagd enkele vragenlijsten in te vullen. U krijgt bij de start van het onderzoek en op 3, 6, 9 en 12 maanden een vragenlijst. Deze vragenlijst kunt u invullen via een app, via de mail of telefonisch.
Meer informatie over het onderzoek vindt u hier: http://www.covidparamedischonderzoek.nl/informatie-voor-de-patient
Let op: bij vergoeding uit de basisverzekering wordt eerst het verplicht eigen risico aangesproken.
Hiervoor heeft u wel een verwijzing van een huisarts of medisch specialist nodig. De 1e behandeling dient binnen 1 maand na verwijzing plaats te vinden.